SHANGXU Q System
assists clients to manage their queue and improve their service quality by shortening the customer's waiting time.Queue Management System
Queue Management System
Tired of managing manual queues for customers in your organization?
Now you do not have to worry about manual Queue Management anymore because SHANGXU Technologies brings you state of the art intelligent and automated Queue Management Systems.
Queue Management System is all about managing your flow from the point customer enter and until finishing their transaction. We can make a real difference in the way your customers wait and ensure about to improve your customer service & business productivity. The level of service and efficiency has increased with the use of Queue Management System, resulting in an increased customer satisfaction.
Our solution is ideal for:
•Banks •Telecom Service Centers
•Retail Stores •Hospitals/Clinic
•Government Institutions •Ticketing booths
•Schools •Colleges
•Universities •Airports
•Embassies
or any other organization which encounters heavy flow of customers. Our solution is helping the large organization in the industry to enhance their customer experience.Our Queue Management Systems includes user friendly software which is reliable and easy to maintain. It also provides multiple reports for monitoring and quality assurance purposes.
Queue Management System Work Process: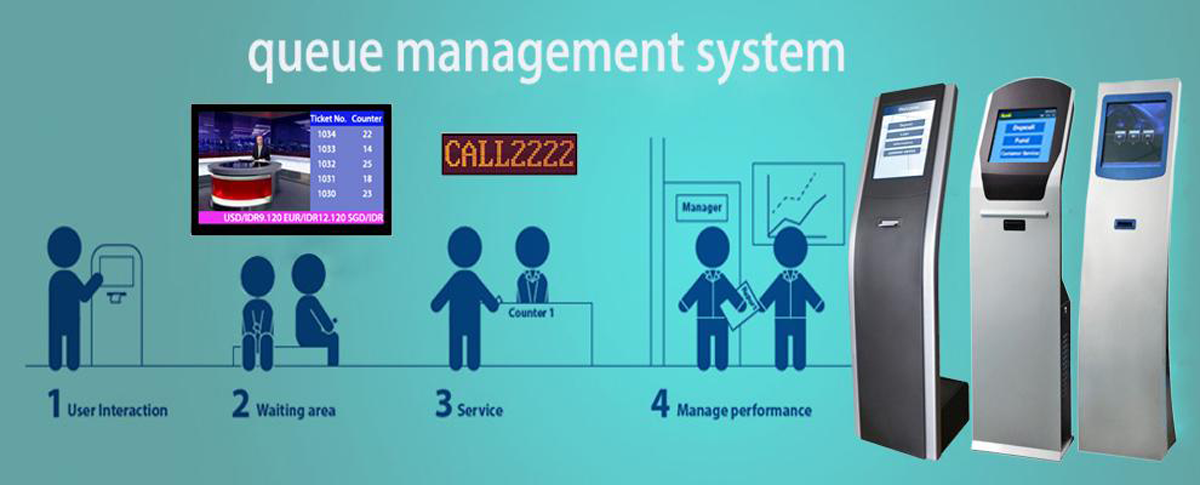 1.As soon as the customers walk into your office or shop or bank or clinic, they select the service they want on a touch screen kiosk and take a ticket.
2.Staff can see what services the customers are waiting for, and can call the next number.
3.When the counter staff calls the customer, their number is shown on an LED/LCD counter display above the service counter. A voice from ticket machine helps making it obvious for the customers where to go.
4.After done service,the customer can feedback to the staff service by the customer feedback terminal.(Optional) )